Sequal Eclipse 5
00020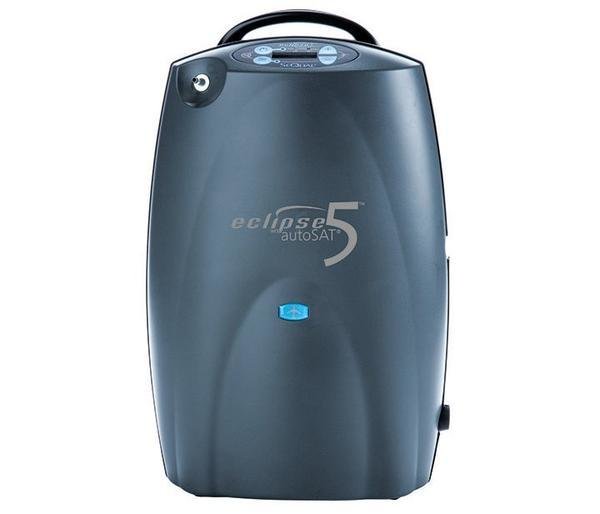 The SeQual Eclipse 5 is CAIRE's proven, reliable, single-oxygen solution with 24/7 capabilities. Just under two feet tall, this transportable oxygen concentrator is fully functional on DC power, including the ability to recharge the battery and the availability of all flow rates – continuous and pulse flow – in the car.
The SeQual Eclipse 5 delivers continuous settings up to 3 LPM as well as pulse dose settings 1–9. With its advanced clinical features and high pulse settings, the SeQual Eclipse 5 is capable of supporting almost all oxygen users regardless of their oxygen prescription or disease state.
5.4 hours of battery life at 2 pulse and 2 hours of battery life 2 LPM continuous flow.
18.4 lbs. with battery and cart installed.
Removable cart with telescoping handle for easy one-handed adjustment.
Works on AC power supply, and DC automotive power supply so you can take it anywhere and charge it.
Battery will re-charge in car at 2.0 LPM or less.


SeQual Eclipse 5
Flow Rates
0.5 - 3.0 LPM (0.5 liter increments)
1.0-6.0 = 16-96 mL (8 mL increments)
7.0-9.0 = 128-192 mL (32 mL increments)
Weight
15 lb. (6.8 kg), Battery 3.4 lb. (1.5 kg)
Dimensions
19.3 in H x 12.3 in W x 7.1 in D
(49.0 cm H x 31.2 cm W x 18.0 cm D)
Oxygen Purity
90% +5.5/-3%
Battery Duration
2 hours (at 2LPM continuous flow)
5.2 hours (at a pulse dose setting of 2 setting)

Battery

Recharge

1.8 to 5.0 hours recharge time (dependent upon the flow)
Sound Level
48 dBA at 3.0 LPM Continuous Flow Mode
40 dBA at 3.0 Pulse Dose setting

Standard

Warranty

3 year concentrator
1 year battery, power supplies, standard accessories
Brand:
Chart Industries' Caire Inc.