SAROS Battlefield Oxygen System
00044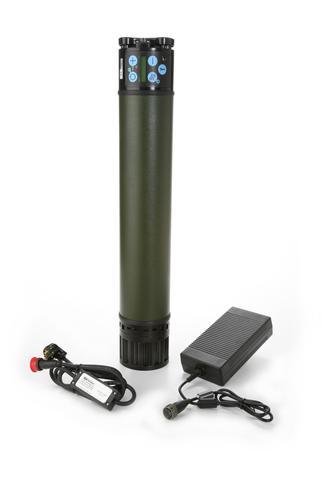 NSN: 6515-01-588-3083
PK Part # 9400-SEQ | MFR Part # 9400-SEQ
Safe, simple and sustainable, 12 lb. portable oxygen concentrator replaces oxygen cylinders and large oxygen generation equipment used in field hospitals, casualty evacuation, and has a replaceable/rechargeable battery for en-route care and on the battlefield.
Emergency and Disaster Preparedness
En Route Care
Can be carried and used by first responders anytime, anywhere
Air-Worthiness Certified
Oxygen system selected for Special Operations TCCC CASEVAC Set
1-3 LPM Continuous Flow Mode
16-96 mL bolus in Pulse Dose Mode
autoSAT Technology
Pulse trigger sensitivity adjustment
USP 93% Medical Grade Oxygen
Tactical Mode
12.25 Pounds with Battery
10.00 Pounds without Battery
26.80" L x 4.375" dia with battery
23.25" L x 4.375" dia without battery
15 psig Maximum System Pressure
5 psig System Output Pressure
Nominal power 130 watts @ 3 LPM
AC Power Supply
24 VDC Operation
Rechargeable Battery
Altitudes up to 18,000 ft
Operating Temperature: 0˚ to 43˚ C
Operating Humidity 10%-95% at an 82.4˚ F (28˚ C) dew point
9V Back Up Alarm
HEPA, Air Exhaust, Air Intake Filters
FDA 510K
AWR Certified
Brand:
Chart Industries' Caire Inc.