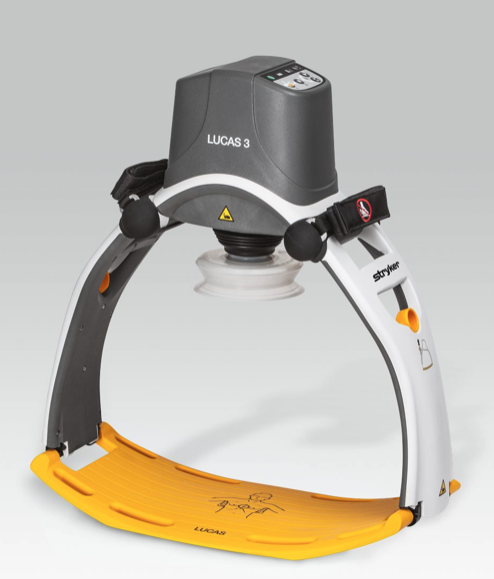 LUCAS 3.1 Chest Compression System
00119
Product Details
PK Part #: 99576-000063
Improve CPR quality
Overcome caregiver fatigue, individual variations in CPR quality, and awkward positions while providing chest compressions by using automated, guidelines-consistent CPR. The LUCAS device provides consistent and high-quality chest compressions shown by research to increase the chances of good patient outcomes. The LUCAS device has demonstrated to increase blood flow to the brain and achieve higher EtCO2 values compared to manual compressions
Extend the reach of care
Deliver consistent chest compressions for the duration needed to give difficult patients access to advanced lifesaving therapies. The LUCAS device helps to bring interventions such as ECMO/ECPR within reach for patients who don't respond to CPR and defibrillation alone. Plus, it can be used during angiography and PCI in the cath lab, allowing for potential lifesaving intervention.
Keep your team safe
Manual CPR involves risks to caregivers particularly during patient transport and during interventions in the cath lab. The LUCAS reduces these risks by facilitating safer transports, reducing x-ray exposure of the CPR provider during PCI, and lessening body strain and awkward work positions while delivering high-quality chest compressions, regardless of treatment surface or movement requirements.
Enhance team efficiency
Calm chaotic scenes and enable caregivers to focus their skills and judgment where they matter most. When you rely on LUCAS to handle proper chest compressions, you can focus on other life-saving tasks and speed diagnosis and treatment of underlying conditions.
Deploy easily and quickly
Low-profile back plate for fast, smooth patient application

Spacious support structure accommodates larger patients

A median of only 7 seconds of interruption demonstrated when transitioning from manual to mechanical CPR in clinical use8

Straps secure patient arms and device during transport
Configure to your protocols within guidelines**
Configure compression rate, depth, and alerts to your protocols via LIFENET connectivity

Adjustable ventilation alerts, pause length and count

Timer to remind rhythm and pulse checks

Set auto-lowering and pressure pad parameters to your preferences
Easily access and share post-event data**
Make QI/QA documentation faster and easier with emailed post-event reports

Connect wirelessly to the LIFENET System

Easy-access LUCAS device data enables productive post-event review

Integrate with CODE-STAT 11 data review software
Easy to store and carry
Battery operation lets the LUCAS 3 go anywhere

Lightweight and compact carrying case includes a window for quick battery checks

External power supply enables prolonged operation and charging

Easy to clean, with disposable suction cup on compression piston
Save this product for later