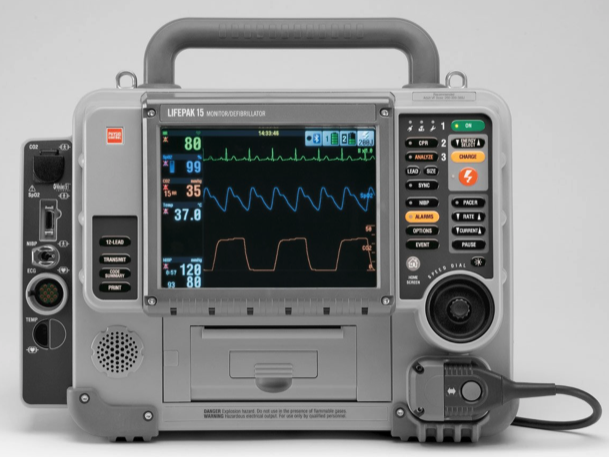 LIFEPAK 15
00120
Product Details
PK Part #: 99577-001368
Trust proven clinical performance
Take advantage of escalating energy up to 360J—which has been shown to improve conversion rates for difficult-to-defibrillate patients.1-4Elevate STEMI care with the industry-leading University of Glasgow ECG Analysis Program and ST-segment trend monitoring, which continuously monitors all 12-leads, alerting you to changes.
Work efficiently even in chaotic settings
From intuitive controls to a dual-battery system and a large 8.4 inch anti-reflective color display that changes to high-contrast mode with a single button, the LIFEPAK 15 helps you work more efficiently so you can keep your focus on your patients.
Depend on LIFEPAK TOUGH rugged durability
With more than a dozen durability enhancements from the previous generation of LIFEPAK devices, the LIFEPAK 15 is our toughest yet – built to withstand drops, shocks, and extreme vibration.
Continually improve team response and outcomes
The LIFENET System connects the LIFEPAK 15 through the cloud to transmit emergent patient data to the hospital while enabling ease of documentation, care team activation for time-sensitive emergencies, and valuable insights to support continuous performance improvement.
Streamline device management and maintenance
Help ensure the device is always ready to go with two reliable batteries and a daily self-test that alerts you to possible issues before you experience them in the field. Easily track device health and readiness via your LIFENET Asset management system.
Easy to use so care teams can focus on patients
Dual-mode display screen that provides maximum visibility—59% larger screen than competitive devices1

All key functionality with a single button push

Easy access to cables, connections and printer
Supports improved resuscitation results
Proven CPR guidance—shown to guide responders to perform compressions at 100/minute and avoid over-ventilation2

Capture all displayed waveforms and CPR quality for post-event review

The highest escalating energy available, up to 360J biphasic, for difficult-to-defibrillate patients
Improves operational effectiveness
Upgradeable platform to adapt to evolving protocols and new care guidelines

Instant access to device health and readiness data through LIFENET Asset

Enhances team review with rapid data export to HealthEMS ePCR and CODE-STAT post-event review software for QA/QI
Uses a top 12-lead ECG algorithm
Trusted, proven University of Glasgow 12-Lead ECG Analysis Program

Continuous monitoring of all 12-leads with alerts when significant ST segment changes are detected

Uses Sgarbossa criteria and measures STJ at the J point for possible STEMI patients and provides pediatric interpretation for pediatric patients.
LIFEPAK TOUGH
Corner guards, shock-absorbing handle, and reinforced cable connections

Dual-layer, anti-scratch screen

Withstands severe impacts and extreme vibration
Save this product for later