Airsep Newlife Intensity 10
00018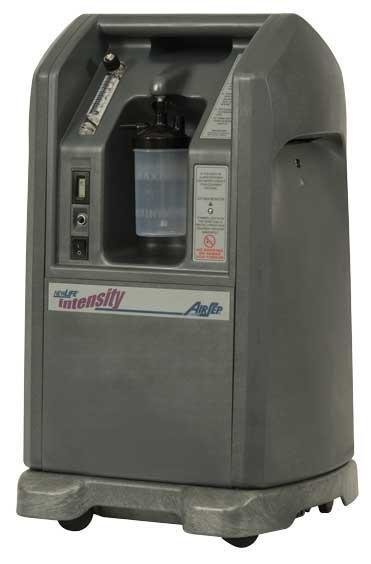 PK Part # 20-206 | MFR Part # AS099-100
The AirSep NewLife Intensity is the most durable and capable high-, continuous-flow stationary oxygen concentrator. This stationary oxygen concentrator combines high pressure - 20 psi outlet pressure - with high flow to create up to 10 LPM of therapeutic oxygen. The AirSep New Life Intensity 10 LPM is ideal for long-term care facilities where higher oxygen flow is necessary.
Direct humidifier bottle attachment.
Resettable circuit breaker.
Simple user-interface.
Long tubing runs up to 200 ft (61 m).
Backlined flow meter for easy viewing.
Units are available with or without an oxygen monitor to alarm for concentrations below 82% oxygen.


AirSep NewLife Intensity 10
Flow Rates
2-10LPM
Weight
58 lb. (26.3 kg)
Dimensions
27.5 in H x 16.5 in W x 14.5 in D
69.9 cm H x 41.9 cm W x 36.8 cm D
Power Draw
590 watts
Sound Levels
55 dB(A)
Oxygen Purity
2-9 LPM: 92%+3.5/-3%
10 LPM: 90%+5.5/-3%
Operating Environment
41º F to 104º F (5°C to 40°C),
UP to 95% humidity
Storage Environment
-4º F to 140º F (-20°C to 60°C),
up to 95% relative humidity
Brand:
Chart Industries' Caire Inc.