Airsep Newlife Elite
00017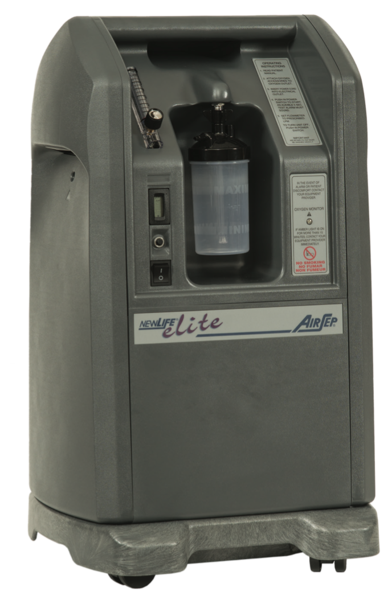 NSN 6515-01-552-9967
PK Part # 20-104 | MFR Part # CTS05-1M
The AirSep NewLife Elite concentrator delivers up to 5 LPM of oxygen. The robust construction, ease-of-use, and low maintenance make it the perfect choice for facilities, hospitals, clinical settings, and harsh environmental conditions.
Units are available with an optional O2 monitor. The AirSep NewLife Elite can also be equipped with a pediatric flowmeter for use with infants and other patients prescribed for low liter flow (0.125–2 LPM). The Air Outlet option enables the unit to deliver medicated nebulizer treatments while simultaneously providing supplemental oxygen.
Direct humidifier bottle attachment.
Resettable circuit breaker.
Simple user-interface.
Smooth and quiet operation.
Backlined flow meter for easy viewing.
Units are available with or without an oxygen monitor to alarm for concentrations below 82% oxygen.


AirSep NewLife Elite
Flow Rates
1.0 - 5.0 LPM
Weight
54 lb. (24.5 kg)
Dimensions
28.5 in H x 15.7 in W x 14.5 in D
72.4 cm H x 40.0 cm W x 36.8 cm D
Power Draw
350 watts
Sound Levels
48 dB(A)
Oxygen Purity
1-3 LPM: 95% +0.5/-3%
4LPM: 92% +3.5/-3%
5LPM: 90% +3.5/-3%
Operating Environment
41º F to 104º F (5°C to 40°C),
UP to 95% humidity
Storage Environment
-4º F to 140º F (-20°C to 60°C),
up to 95% relative humidity
Brand:
Chart Industries' Caire Inc.