Airsep Freestyle 5
00002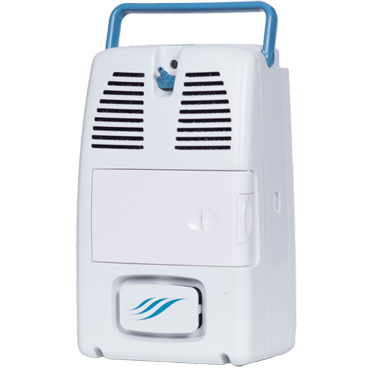 The AirSep FreeStyle 5 provides up to 1000 mL of oxygen in a wearable portable oxygen concentrator. With settings 1-5, it has the capacity to treat a wide collection of patients with maximum ambulation, including higher pulse dose prescriptions. Early to mild stage COPD oxygen users can enjoy active lifestyles with the lightweight and durable AirSep FreeStyle 5.
NEW and IMPROVED user-replaceable battery – swap battery packs on the go instead of waiting to re-charge an internal battery or having to add heavy external batteries.
NEW and IMPROVED longer battery life – now patients can stay active for up to 2 ½ hours with a single battery pack at setting 2
NEW and IMPROVED fresh color palette
A simple control panel with 1-touch operation making it easy to use
An easy to read battery gauge with lights for 25%-100% battery life notifications.
Works on AC power supply, and DC automotive power supply so you can take your portable oxygen concentrator anywhere and charge it.
FAA approved for use onboard commercial aircraft.


FreeStyle 5
Flow Rates
Pulse setting 1-5

Weight

w/battery

6.7 lb (3 kg);
Dimensions
10.7 in. H x 6.6 in. W x 4.4 in. D
(27.2 cm H x 16.8 cm W x 11.2 cm D)
Oxygen Purity
90% +5.5/-3%
Battery Duration
5 setting - 1.25 hours
4 setting - 1.75 hours
3 setting - 2 hours
2 setting - 2.5 hours
1 setting - 4.25 hours

Battery

Recharge

4 - 5 hours
Sound Level
48 dB(A) at setting 3

Standard

Waranty

3 year concentrator
1 year battery, power supplies, standard accessories
Brand:
Chart Industries' Caire Inc.